We Stand With our sister Cecile Kyenge MEP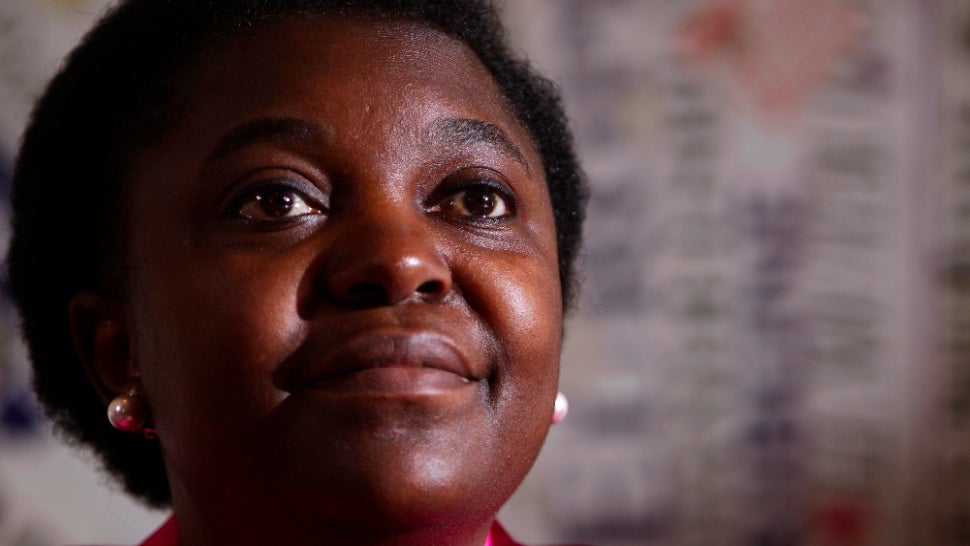 Cecile Kyenge is an Italian MEP. Over a prolonged period, she has been subjected to horrendous racist abuse, misogyny and threats by those who say she should not be a politician in Italy or in Europe.
Some of this abuse has come from other politicians and political parties. Northern League senate vice-president Roberto Calderoli likened her to an orangutan and said she should not be involved in Italian politics but 'should do politics in her own country'.

There have also been calls for Cecile to be raped. She has had bananas thrown at her.
Cecile has a legal case naming ten Italian politicians because of their abuse.
The leader of Northern League, Now Deputy Prime Minister of Italy, Matteo Salvini, has compared African migrants to slaves and Northern League has ordered a process to expel undocumented Roma people from Italy.
Recently a town in Italy has denied school meals and bus services to children of migrant families, applauded by Salvini who has also blocked NGO rescue ships from Italian ports and has made a proposal
that would force what he calls "little ethnic shops" to close by 9pm, targeting Asian shop owners.
In September I was part of a European wide trade union delegation visiting Palermo, Sicily to bring a message of solidarity with refugees and migrants.
We visited one of several support centres for migrants, providing shelter and training.

In the same week a decree drafted by Salvini was approved outlawing the type of support centre we visited and also abolishing humanitarian protection for those not eligible for refugee status amongst other plans targeting migrants.
As a result of the direct attacks on her and hostile policies and actions targeting migrants and refugees by Northern League, Cecile has expressed the view that they are racist. In response Matteo Salvini is now suing Cecile for defamation.
The attack on Cecile in suing her for speaking out about racism is an attack on us all, it is an attack on equality and on human rights and it is an attempt to legitimise racism and silence voices opposing it.

But it is also a direct attack on Cecile because she is a black, migrant woman.
We know first-hand that black women politicians, campaigners and activists face horrific abuse because of their race and gender and we

recognise that all have a responsibility to stand up to it. We condemn the horrific abuse and harassment of our sister Cecile and we offer our whole-hearted solidarity and support.

We thank Cecile Kyenge for her courage and determination and for speaking out for all of us.
We also encourage people to sign the petition in support

initiated by Operation Black Vote.
Zita Holbourne; Co-founder & National Chair;
On behalf of Black Activists Rising Against Cuts (BARAC) UK